Opportunities
THERE ARE UNLIMITED OPPORTUNITIES THROUGHOUT THE WORLD FOR PETROTEQ'S ENVIRONMENTALLY-FRIENDLY OIL SANDS EXTRACTION TECHNOLOGY.
There are many countries throughout the world with significant oil sands and oil shale deposits, most of which are undeveloped due to the lack of an effective and safe extraction technology.
THE WORLD HAS SIGNIFICANT OIL SANDS DEPOSITS
| | |
| --- | --- |
| Canada | 174,942,000 |
| Venezuela | 58,038,246 |
| Kazakhstan | 42,142,785 |
| Russia | 34,000,000 |
| United States | 21,600,000 |
| China | 5,970,000 |
| Nigeria | 575,826 |
| Angola | 466,483 |
| Indonesia | 423,341 |
| Italy | 300,957 |
| Madagascar | 221,703 |
| Azerbaijan | 125,395 |
Petroteq will involve itself in negotiations to establish licensing and joint venture opportunities around the world where significant oil sands/shale deposits are found. These licensing agreements will incorporate up front licensing fees and production royalty revenue streams as a valuable source of revenue for the Company.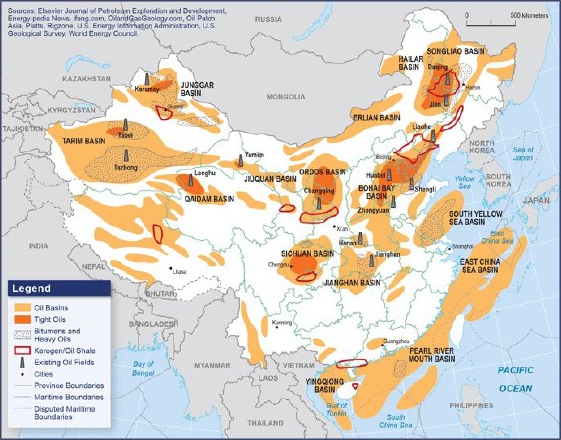 The distribution of heavy oil sands (stippled areas) in China. The tar sands that are found in northwestern China are primarily associated with the Junggar and Tarim Basins. The tar sands found in eastern China are primarily associated with the Erlian and Songliao Basins.
Source: http://carnegieendowment.org/2014/05/06/china-s-oil-future/h93y

Oil Sand outcrop - Northwest Junggar Basin, China. Source: Shan and Luo, 2012.

Oil Sands China

Oil Sands Madagascar
Petroteq has already entered into discussions with various entities representing several of these countries interested in developing their oil sands/shale resources. Several samples of oil sands feedstock from China have been successfully tested in a laboratory environment with similar extraction levels as Petroteq has experienced at their Utah facilities. (99.9% hydrocarbon extraction) Grab samples of oil shale deposits from Jordan have also been tested in Petroteq's laboratory with similar results. Several American mining companies are currently involved in negotiations with Petroteq for possible joint venture opportunities.