Operations
PETROTEQ'S INITIAL OIL SANDS LEASE IS LOCATED IN ASPHALT RIDGE, UTAH, ONE OF THE STATE'S LARGEST OIL SANDS DEPOSITS
Click For A Larger Image
Petroteq's first oil sands lease is located in the heart of Asphalt Ridge in the Uinta Basin, one of Utah's 8 major oil sands deposits. The 1128 acre lease is approximately 10 miles from Vernal, the state's main hub of oil and gas exploration and development, which contains a complete infrastructure of rail facilities, roads, power grid and truck transportation systems. The site is approximately 125 miles from Salt Lake City and the location of five oil refineries.
HOW PETROTEQ CREATED AMERICA'S FIRST ENVIRONMENTALLY-FRIENDLY OIL SANDS PROJECT IN UTAH. A BRIEF HISTORY.
In July 2011, Petroteq appointed JBR Environmental Consultants, Inc. to provide a Developmental Plan, which dealt with pre-permitting, planning and environmental due diligence. This plan included an outline for the protection of water and air resources, process data review, volumes utilized during processing, production rates and by-product production to develop a sound element of work for the various permitting phases. This initial plan also provided recommendations as to what environmental and county permits would be required to commence production.
During late summer and into September, 2012, Petroteq subsequently received all the necessary approvals and permits to proceed with the construction of its extraction plant project. This included a permit for air, ground, water use (Utah Division of Air Quality) - Small Source Exemption for Air Emissions & Uintah County Conditional Use Permit, (State of Utah). Petroteq's due diligence in conjunction with JBR presented an Environmental Site Assessment, which was subsequently approved. This included a "Construction Permit for Processed Oil Sands Storage Cell for Petroteq Energy Pilot Plant," and a "Ground Water Discharge Permit-by-rule For Northwest Asphalt Ridge Projects,"... both issued by the Utah Department of Environmental Quality, Division of Water Quality, State of Utah. An independent engineering firm was appointed in September to prepare engineering drawings for the extraction plant site and the company performed a soil drilling program in order to determine soil conditions prior to site construction.
HOW PETROTEQ PREPARED ITS LEASE SITE FOR THE ASSEMBLY OF ITS FIRST OIL SANDS EXTRACTION PLANT.
Petroteq completed all of the phases of the required site preparation in readiness for the onsite assembly of its initial proprietary technology oil sands extraction plant at Asphalt Ridge. The entry way and entrance roads to the extraction plant pad are now complete in the form of a three level access from the main road. This will provide proper drainage and all-year access to site operations. For electrical system installation, a legal survey of the lease and an easement survey were successfully completed and submitted to the state of Utah authorities. Petroteq's electrical engineering firm, Epic Engineering, has completed a plan for the erection of steel and electrical integration. The pouring of the concrete pad, the foundation for the extraction plant, has been prepared and has been completed. The steel infrastructure will be assembled, while a local firm, Uinta Machinery, is providing the fabrication of the oil sands input equipment and systems. The pre-mixer, sealed pug mill and feeding tank have been fabricated.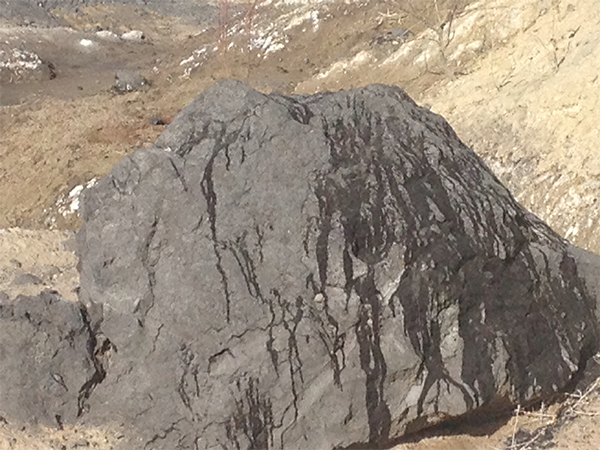 A recent independent consulting engineer's report (Chapman Petroleum Engineering Consultants, Inc.) on the lease indicated the following recoverable bitumen resources:
13 MMSTB bitumen in the Low Case (20.2 MMSTB bitumen in place)
20 MMSTB bitumen in the Best Case (30.4 MMSTB bitumen in place)
30 MMSTB bitumen in the High Case (55.6 MMSTB bitumen in place)
The report continued:
"These estimates reflect a bitumen density of between 125mmstb to 325mmstb per mineable acre. The Asphalt Ridge sandstone structure features extensive surface deposits, and is approximately 150 feet to 350 feet thick, the lower portion being saturated with bitumen at NW Asphalt Ridge."
A core sample from this region had a published analysis reporting a 13.4% bitumen content with an API gravity of 14.3.
Petroteq has also taken several additional steps forward to safely implement its oil extraction program. A study was commissioned by William Self & Associates of Cedar City, Utah, with regards to potential environmental impact during the developmental stages of the lease site, as well as possible harm to historic sites and their existing flora and fauna. "No historic properties are affected, no further cultural resource work is required and that this document stands as the final compliance document for the project." This Report was submitted to the Utah School & Institutional Trust Lands Administration of Utah and has subsequently been received and accepted.
A bond as per the regulations set out by the Utah Division of Oil, Gas & Mining has been issued in order to cover the costs of reclamation and potential damage to disturbed or improved land surfaces. Petroteq has received a permit and approvals for an initial drilling program which is now underway. This program will determine the format of Petroteq's operations Plan & Reclamation Program, which must be submitted prior to the oil extraction processes. Petroteq will continue its plant assembly for subsequent testing and production during Q1 2013, and will proceed with its aggressive oil sands lease acquisition program to obtain additional lease opportunities throughout Utah's major oil sands deposit areas.